BURNING BRIGHT
British Library Conference Centre, St. Pancras, London WC1
Monday 5th March 2007
Tracy Chevalier, author of The Girl with the Pearl Earring, will be reading from her forthcoming novel Burning Bright, an imaginative revocation of Blake's London, partly based on research on Blake's note book held by the British Library. The evening will also feature an introduction to Blake's poetry and methods as a printer from Blake scholar Michael Phillips. The Treasures Gallery will also feature of small exhibition of Blake manuscripts and related materials. Tickets £6.50 SOLD OUT
---
POETS IN THE LANDSCAPE
The Romantic Spirit in British Art
Pallant House Gallery, 9 North Pallant, Chichester, West Sussex PO19 1TJ
31st March - 10th June 2007
Poets in the Landscape explores the creative links between poetry, the pastoral vision and British art in the work of Romantic artists of the 18th and 19th centuries, and the 'Neo-Romantic' artists of the mid-20th century.Taking as its starting point William Blake's visionary period in Sussex, when he was working for the Chichester poet William Hayley, the exhibition features the poetically inspired art of Blake and his Romantic contemporaries and followers, including Edward Calvert, John Flaxman, Samuel Palmer, George Romney and Joseph Wright of Derby. It considers Blake and Palmer's influence on the 'Neo-Romantic' artists and poets whose work embodied a search for a 'Paradise Lost', including Michael Ayrton, Cecil Collins, John Craxton, David Gasgoyne, Geoffrey Grigson, John Minton, Ceri Richards, Graham Sutherland, Dylan Thomas and Keith Vaughan.

www.pallant.org.uk
---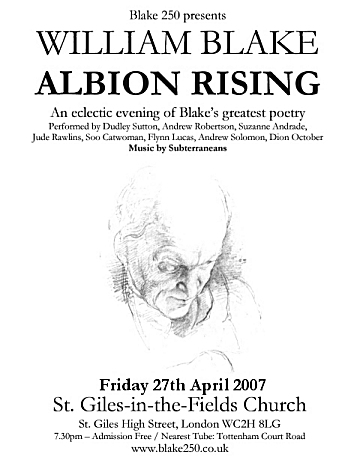 ALBION RISING
St. Giles-in-the-Fields Church, London WC2
Friday 27th April 2007
7.30pm
An evening of eclectic performances of the poetry of William Blake. A free event open to everyone, ALBION RISING takes place in the glorious setting of St. Giles-in-the-Fields, the "Poets' Church", St. Giles High Street, London WC2.

Readers include legendary English actor Dudley Sutton, who recently played the part of William Blake in Peter Ackroyd's BBC television series "The Romantics". Dudley is joined by a cast that includes actor Andrew Robertson ("The Cement Garden", "Gormanghast"), musician and writer Jude Rawlins (Subterraneans' frontman and author of "Divine Images"), poet and performer Suzanne Andrade (founder of the 1927 Group and Edinburgh Festival veteran), punk icon Soo Catwoman, Andrew Solomon (author of "William Blake's Great Task"), artist Dion October and more.
---
MIND-FORG'D MANACLES
Feren's Art Gallery, Queen Victoria Square, Kingston upon Hull
7 April - 20 May 2007
The Burrell Collection, 2060 Pollokshaws Road, Glasgow
3 November - 6th January 2008
Mind-Forg'd Manacles: William Blake and Slavery coincides with the 200th anniversary of the abolition of the British slave trade, as well as the 250th anniversary of Blake's birth. Slavery was a fundamental theme in William Blake's art and writing. He was fervently opposed to it, and during his lifetime (1757-1827) saw successful campaigns against the Atlantic slave trade, leading to its abolition in 1807. Slavery was also for Blake a mental state; to have limited perceptions, to pursue materialistic ends, to follow conventional religion or science, was to be enslaved and to be held with 'mind-forg'd manacles' of one's own making. Mentally restricted figures are shown enclosed within themselves, while those free of mental shackles fly upwards like birds. The show is drawn from the Department of Prints and Drawings at the British Museum, and will consist of 64 watercolours, prints and plates from his illuminated books, together with other works contextualising slavery.
---
MENTAL FIGHT CLUB
Freedom Songs
Tate Britain (Manton Studio)
7th, 8th, 9th, 14th, 15th, 16th May 2007
The groundbreaking Mental Fight Club present this outstanding contribution to Blake's birthday celebrations. Six days of inspirational workshops hosted at Tate Britain, home to the world's finest permanent collection of William Blake exhibits. Create poetry and music which explore themes of slavery and freedom, both mental and physical. All workshops are free and will draw on the work of William Blake and other radical writers, dissenters and revolutionaries. You can come along to as many as you like.

11am-4pm Free lunch available The Manton Studio, Tate Britain
PLUS Free Tate Boat from Tate Modern

Reggae Jerusalem
7th & 8th May 7 & 8
Create new visions and versions of William Blake's poems with poet David Neita and Caribbean Steel Drums

Words into Worlds
9th May
Cut and paste your own poetry from revolutionary texts, with writer and performer Rosemary Harris.

Human Rights Manifesto
14th & 15th May
Look at The Declaration of Human Rights as inspiration for your own expressions of freedom, with sound artist Isa Suarez

Sound Spirits
16th May
Explore the spirit that moves us through movement, breath and sound, with musicians Elena Riu & Vivien Ellis

Reserve your place by e-mail with Declan McGill: mentalfightclub@yahoo.co.uk
or ring Frances Williams at Tate Britain on 0207 887 8759
---
MASS OF INNOCENCE AND EXPERIENCE
Westminster Abbey
Tuesday 10th July 2007
The Abbey choir will sing Stephen Hough's "Mass of Innocence and Experience", Simon Callow will read poems, and there will be a performance of the Vaughan Williams' Blake Songs for tenor and oboe.
---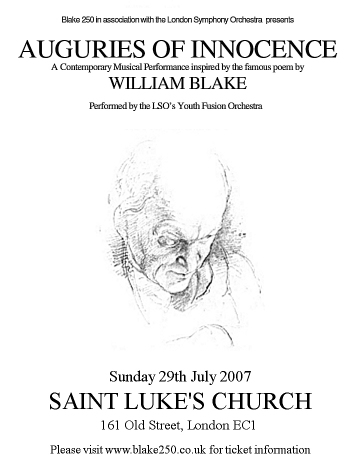 AUGURIES OF INNOCENCE
LSO St. Luke's, 161 Old Street, London EC1
Sunday 29th July 2007
7.30pm
The London Symphony Orchestra's Youth Fusion Orchestra will perform the world premiere of their "Auguries of Innocence" piece, inspired by the Blake poem and commissioned especially for Blake 250 by Jude Rawlins.
ADMISSION TO THIS EVENT IS FREE BUT BOOKING IS ESSENTIAL. PLEASE CALL 020 7382 2529 TO BOOK.
---
EVERY EYES SEES DIFFERENTLY AS THE EYE
The Drawing Room, Tannery Arts, Brunswick Wharf, 55 Laburnum Street, London E2
4th October - December 2007
A special exhibition curated by The Great Unsigned.
---