Jean Seberg is buried in Montparnasse Cemetery, Montparnasse, Paris. Montparnasse is south of the River Seine, about twenty minutes on foot from the Left Bank. It is the newer of the two famous Paris cemeteries, the other being the larger Pere Lachaise in the northeast of the city. Other luminaries buried at Montparnasse include Jean Paul Sartre & Simone de Bouvoir, Maria Montez, Baudelaire, Serge Gainsbourg, Auguste Bartholdi, Alfred Dreyfus, Cesar Franck, Vincent D'Indy, Guy de Maupassant, Saint Saens, and Constantin Brancusi.
Address: 3 Boulevard Edgar Quinet, Paris 75014
Opening times: Mon-Sat 9am-6pm, Sun 10am-5pm
Admission: Free
By Metro: Edgar Quinet and Raspail Stations are both about three minutes walk from the main entrance on Bd. Edgar Quinet. Both are served by Metro line 5 (Charles de Gualle Etoile/Nation). Raspail is also served by line 4 (Porte de Clignancourt/Porte d'Orleans). The nearest mainline station is Montparnasse Bienvenue. From Gare du Nord take Metro line 4 southbound for Porte d'Orleans, alighting at Raspail. Any single Metro journey costs 8F. Having the correct change will speed up your Metro experience somewhat.
By Bus: Number 82. Eastbound: Port Maillot, Victor Hugo, Eiffel Tower, Champ de Mars, Invalides, Duroc, alight at Tour Montparnasse. Westbound: Luxembourg, Pantheon, alight at Tour Montparnasse.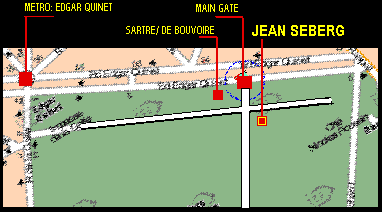 Jean's grave is near to the main gate. Enter and head straight forward, until you reach the second left turn. Jean is buried second from the end on the second row on that corner. You will see it from the main path.
PARIS INFORMATION
Up to the minute tourist information is availible online at www.paris.org. This is also a good place to start looking for a place to stay.
Paris is not a big city compared to the likes of London and New York. Getting about by Metro doesn't take long, and is highly economical. One of the best places for value for money hotels and B&Bs is Pigalle, on the north side of the city. Very near Gare du Nord, and served by the Metro at Pigalle and Blanche (Moulin Rouge), it is very bohemian, and very close to both Montmartre (Sacre Coeur) and the Rue St. George (Opera and the Galeries Lafayette). The most reasonably priced is the Eden Hotel on Rue Blanche, upwards of £15 per night, and a good level of accomodation. Generally a single room in the area is £35-£45 per night. Some hotels are better than others. The Hotel de Belgique in Rue de Bruxelles came highly recommended, but actually proved rather a let down. Roughly the same price but far better value for money was the Hotel Monterosa in Rue La Bruyere. Nice rooms with good facilities and extremely helpful staff (all of whom seem to speak very good English!).
---
Montparnasse Bienvenue
Pictures of Jean's last resting place in Montparnasse, Paris