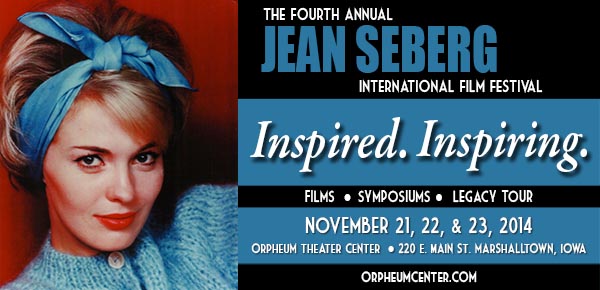 THE FOURTH ANNUAL
JEAN SEBERG
INTERNATIONAL FILM FESTIVAL
November 21-23, 2014
Orpheum Theater
Marshalltown, Iowa, USA

MARSHALLTOWN, IA – The Fourth Annual Jean Seberg International Film Festival is set for November 21-24, at the IVCCD Orpheum Theater Center in Marshalltown, Iowa. This annual celebration of Jean Seberg's life will once again capture the essence and being of the world-renowned actress from Marshalltown. Mark your calendars so you get a chance to celebrate Jean's journey and transformation from Marshalltown girl, to Hollywood icon, and French heroine. Schedule and ticket information can be found HERE.
---
JEAN SEBERG: BREATHLESS
By Garry McGee

The full, authorised Jean Seberg story, told in unrivalled detail, with the full co-operation and endorsement of Jean's family.

Click on the image to order this unmissable book.